ANJU BOBBY GEORGE
Athlete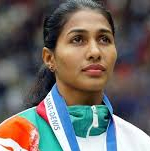 Anju Bobby George, made history when she won the
bronze
medal
in Long Jump at the
World
Athletics
Championships 2003 in Paris. With this achievement, she became the first Indian athlete ever to win a medal in a World Athletics Championship clearing 6.70 m.
Anju was born on April 19th, 1977 in Cheeranchira Kochuparambil family in Changanasseri, Kerala to parents K.T. Markos and Gracy. She was initiated into athletics by her father and her interest was further kindled by her trainer Mr. Thomas in Koruthode school. She did her schooling in St. Ann's High School and CKM Koruthode School and graduated from Vimala College. In the School Athletic meet in 1991-92, she came first in 100 m hurdles and relay and second in long jump and high jump events and became the women's champion. Anju's talent was noticed in the
national
schools
games where she won third place in 100 m hurdles and 4x100 m relay. She was the Calicut University Champion during her college days.
Although she started with Heptathlon, she later began to concentrate on her jump events and went on to win long jump medal in the 1996 Delhi junior Asian championship. In 1999 Anju set the national record for
triple
jump
in the Bangalore Federation Cup and Silver medal at the South Asian Federation Games in Nepal. In 2001 Anju bettered her own record in long jump to 6.74 m, her best till date in the National Circuit Meet at Thiruvananthapuram. In the same year she also won gold for triple jump and long jump in the Ludhiana National games. Anju reigned supreme in her events in the Hyderabad National games also. Anju became the first Indian woman to win a bronze medal clearing 6.49 m at the
Commonwealth
Games
at Manchester 2002. She also won the gold medal at the Busan Asian Games. She received the prestigious Arjuna ward (2003) for eminent sports persons from the government of India after her success in the World Athletic meet.